Tepro 4
x

P

4xP - Pneumatic PCB Panel Puncher - is a complete solution for automatical depanelization of PCB panels and placing the PCBs in an ESD tray. Both machine and trays are designed and manufactured by Tepro.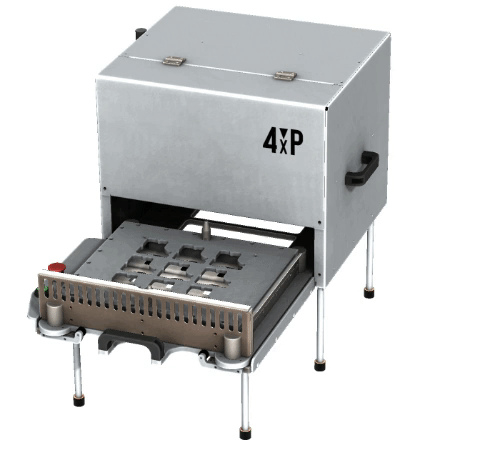 4
x

P at a Glance
Save time – avoid manual depanelization of PCB panels
Cut all PCBs in one stroke
Rational handling of PCBs for storing and shipping in ESD-trays
Universal machine with exchangeable, customized tools for different panels
System with separate knives makes service and maintenance easy
We supply complete system with machinery and customized ESD-trays
Technical Data
| | |
| --- | --- |
| Machine size (WxLxH mm) | 634 x 886 x 660 |
| Maximum panel size (BxL mm) | 300 x 390 |
| Punch force, total* | 9,5 kN at 6 bar |
*The effective force of the puncher is calculated based on panel thicknes, number and size of cut points, as well as other relevant data.
4
x

P - Function

4xP is available in two versions:
An ESD-tray is placed underneath the PCB panel - as in the animation above - and both are then inserted into the 4xP machine. A punching tool is pressed towards the PCB panel once pressing is activated and knives cut off the cut points. All PCBs are punched out in one stroke and fall into the ESD-tray below, while the panel skeleton remains on the top of the fixture.
This design is suitable for manual processes and panels with a skeleton (=the PCBs are not attached directly to each other).

Alternatively, the 4xP machine removes the cut points and both the PCBs and the panel scrap remain on the top of the fixture after punching. This is demonstrated in the video to the right / below. Both PCBs and panel scrap can be lifted at the same time. The PCBs are placed in the ESD tray and panel scrap in a waste container. This process is well suited for automation; the insertion of the PCB panel and activation of the puncher can be done with the robot (or manually as in the movie) and new ESD trays can be fed using the Tepro TrayFeeder. We at Tepro also have extensive knowledge in the development of lifting tools and can thus assist with a complete solution to automate this process!
Videos